I've been thinking, and I've decided that with 3 craft fairs under my belt (2 not-so-good ones and one very succesful one) I might as well write down some tips for the n00bs. In no particular order, here are mine:
1.
Bring everything
on this list
. I packed up a big box for my first fair and just bring it to each subsequent fair, and nothing ever gets left behind!
2.
Make a big excel file of all of your inventory and its price. When you sell something you can cross it off, and then at home you can tally up everything you've sold on the computer to keep track of it really easily. Plus it helps if you forget the price of something or other.
3.
Mark prices very clearly. Some people don't like to ask, and some people decide what to buy based directly from the prices they see. This picture shows my pricing signs: they are little triangles made out of recycled cardboard and pretty paper, laminated (and waterproof) with clear tape. Easy fast and cute, and I can reuse them over and over! I'll make a tutorial if anyone wants one.
4.
Have freebies, either from your shop or other people. It creates loyalty because everyone loves freebies! Freebies for your own shop (promotional freebies) should be USEFUL so they don't just get thrown away. My favorite item for this is magnets, which I make myself. Pens, mirrors, etc might also work wonderfully! Make sure your URL is on there and all that. I gave away all but 3 of the 50 or so magnets I had sitting out there, and now they're all sitting on people's fridges for them to see every day!
5.
packaging! Bring bags (NOT recycled wal mart bags) with your url or logo somewhere on it. Include a biz card inside. I also toss in etsy promotional packs, makes them feel like they're getting more freebies! Consider wrapping and whatnot if your item works that way.
6.
Have a draw like the giant teddy bear I used at my last fair! (see my previous entry for pics) it will attract your target demographic. If you're a soap seller, think about how The Body Shop always has that little dish set out with yummy smelly samples in it OUTSIDE their store, to draw people in, for example. If you sell plushies, make a huge one. If you sell clothes, put your best outfit on a mannequin. Etc! People will see it from far off and want to come check out your stuff!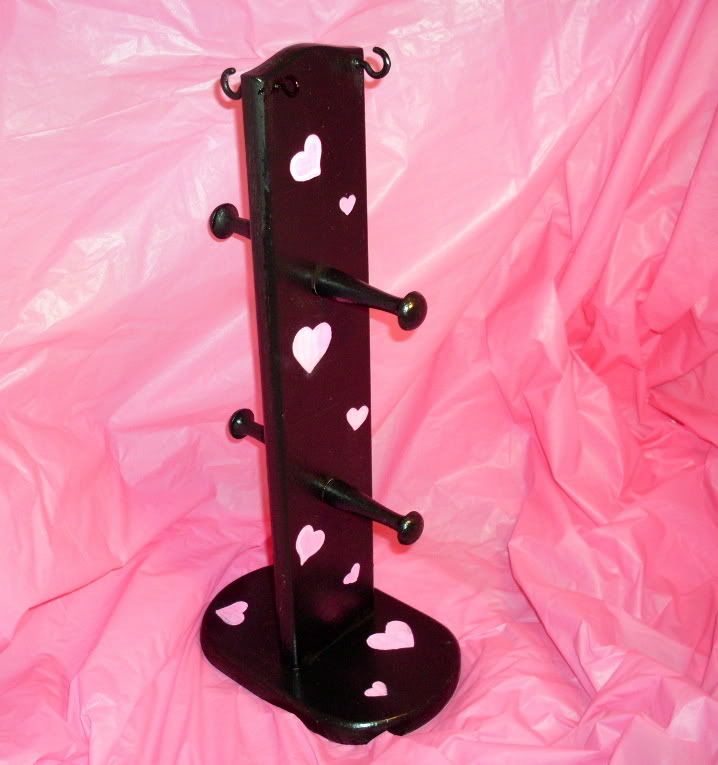 7.
Displays. Think about how you want your items to be seen. If you are marketing adult-oriented, sophisticated stuff, you may want all matching displays. I personally chose a variety of themed displays for my tables, so it doesn't match very well but does look interesting. For some ideas on DIY jewelry displays,
click here
. The picture is of an old, dirty necklace stand that I painted! Get creative.
8.
You'll hear this one a lot - levels! You need your table to have lots of levels so it doesn't look all boring just laid out in one spot. I personally like to put a box underneath my
tablecloths to mix it up and then put things on top of that. The picture is an example. See how one jewelry display is much higher than the other? It makes it look more interesting. Plus, you can fit more stuff on your table that way! Also consider hanging things from the side of your tent. The more levels, the better!
9.
Be friendly. My last craft fair, I was going through a breakup. I was SOOOO not in the mood to smile and sell my stuff. But I did anyway (plus my friends showed up to help, which cheered me up!) and I got a lot of return customers from one day to the next! All these teenage girls kept coming back to talk to me, it was adorable! If I would've let my mood take over I would've sat glowering at everyone, but instead I said hi to each customer and sold my products cheerfully. Always stay proffesional.
10.
Promote your fair. I know, that's the job of the advertisers ... but in my case, I wasn't sure there was advertising to my demographic. The fair organizers had advertised in the newspaper and around their neighborhood, but I hadn't seen anything on craigslist, facebook, or myspace!! So I got promoting, created a facebook event and a craigslist post. We all know how to advertise here, and the more customers a fair has, the better EVERYONE benefits.
If I think of any more tips I will update! Please add your own too!