Along with many other sellers this summer, I'm not selling a thing! I haven't had a sale in almost 3 weeks now, the longest time ever since I first opened up my shop! So, what to do? Give up? Toss in the towel? No. The answer is, devote my time to other alternatives and opportunities during this slow summer. For me, this means a couple of craft fairs and wholesale/consignment work.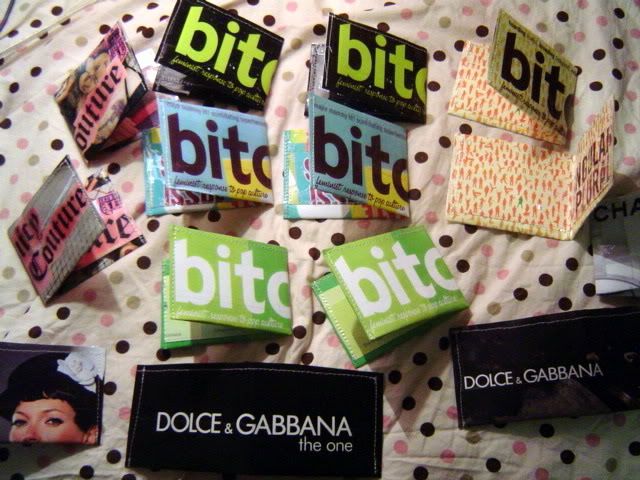 For those not familiar, wholesale means you sell a large amount of your items at a reduced price to a store to sell at whatever markup they like. Consignment means you send items to a store along with a list detailing what prices they should be sold at, from which you receive 60% and they receive 40%. Wholesale means upfront payment; consignment means payment when your item sells. I think of consigment as a 24/7 craft show: your item is on display in a shop with lots traffic! I'm going to be doing my first consignment orders this summer.
What I did to jump-start this re-focused attention thing was write up a
Wholesale/Consignment Tip Sheet
with every item I wholesale, the minimum price required to buy to receive the discount, and its price. The same items are also available for consignment. Next, I visited my
Etsy Thread
which lists loads of stores who sell handmade goods, along with their locations! (In alphabetical order *ahem* you're welcome!) I clicked on every website (though, if you're really ambitious, you could probably google the ones without websites listed as well) and if the store looked like it fit my target demographic (edgy, funky, alternative) I found their email address and added it to my list. Once I'd compiled all of the stores, I sent out a mass email with a link to my wholesale page and a couple of suggestions (for example, I can make custom wallets: local-themed wallets, political wallets, graphic wallets, etc! I suggested these as a great personalized shop-specific selling item and, surprise, I now have 2 consigment orders for them!) Not all 30-something of the shops I emailed have gotten back to me yet, but I have several new orders to work on and now I don't need to rely on my dead Etsy shop and Website for income.
To make your own wholesale info page, you don't need a website, although it does help (mine was just simple HTML). You can also write up an email in Notepad and copy-paste it into your email provider to send it out to multiple people. Your wholesale tip sheet should include example pictures that showcase your items (I had pictures of previous orders I'd done as well as my best items from each category), prices, and if you have any requirements for wholesale/consignment or feedback from other wholesale buyers, you can include that too. I can't wait to hear back from the other shop owners! And remember, even if they don't order from you right away, you're now in their file of potential sellers!