So as some of you may or may not know already, my major at IU is Fashion Design and Apparel Merchandising. The
fashion design certificate
at IU is an extremely rigorous 2 year program that is bigger than a minor but smaller than a major. It covers every part of fashion design: Design and Construction studios, Drawing and Portfolio studios, Computer Aided Design, and Field experiences, as well as Theory and History courses. Currently I am in a lab class constructing skirts and pants, and a design class learning the basics of fashion sketches and portfolio pieces. At the end of the semester I will have 2 completed skirts and a pair of pants, as well as over 15 pieces in my portfolio! But I thought I'd share some of my designs that I've made so far.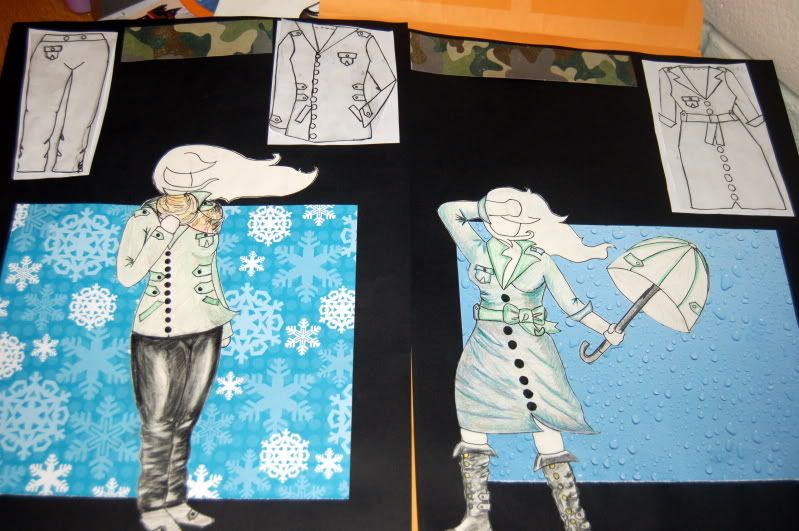 "Redesigning the Trench Coat" First look: gabardine motorcycle style jacket with leather pants and rubber boots. Second look: gabardine dress with leather boots + vinyl umbrella. Mood page theme was "protection" so there are weather elements and cameo to symbolize the protection that Trench coats provided the army in WWII.
First I'd like to point out that I have never, EVER drawn anything substantial before this year. I've made some pretty awesome
abstract illustrations
and doodles but never people or clothing. Also, my design class is NOT an art class: we are not given any direct instruction as far as things like proportion or making a sketch look realistic. What we are given as a resource is a huuuuge textbook called
9 Heads
which is chock full of
croquis (blank human forms)
, flats (a garment drawn as if it were laid out on the ground to show construction techniques) and working sketches (a drawing of the garment on a human form to show how it looks being worn). We were then told about
Mood Pages
or Mood Boards which is basically a collage that expresses the theme or inspiration behind the garment you have designed. Then we were told to go forth and create! Each week we have a new assignment to turn in with two looks, flats, working sketches and a mood page. So far we've designed for the US Open, created an outfit based on the
Turban Squash
, redesigned the Trench Coat, constucted half-scale garments based on the architecture of IU, reconstructed a full-scale "problem garment," and designed looks to fit into the
Halston
brand. We are given a week to complete each assignment and although the course is only worth one credit (grrr) we all bust our butts in the fashion lab for many, many hours! I will have a complete portfolio of these and more pieces, including my final line (10 looks around a common theme) later on, but I figured I'd show some of what I've been working on.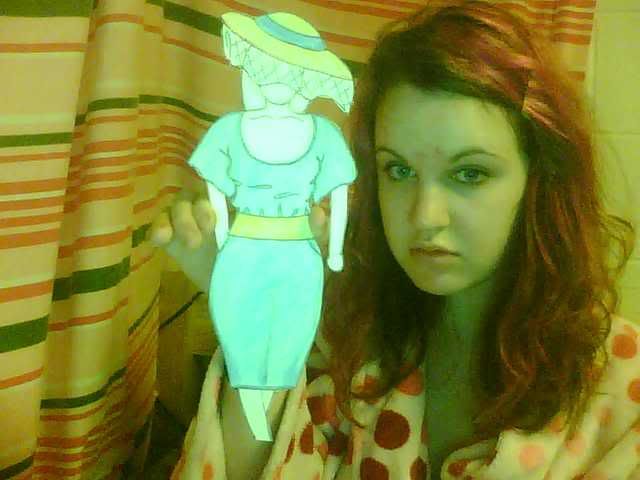 Designing for the Halston line. Blue china silk scoop neck dress with yellow ultrasuede belt and matching hat.

I really wanted to develop my own style of designing and drawing that would be easily recognizable. I didn't use any of the croquis provided by the 9 Heads book at all, so I basically had to teach myself how to draw people from scratch. I decided early on to reject the standard high fashion model, which is abnormally tall and abnormally thin. I create designs and draw women that are full-figured, even plus sized. My croquis are all very curvy and even the fit model for the skirt I am constructing is curvy. The more I design the more practice I get so I have definitely improved over the course of the semester!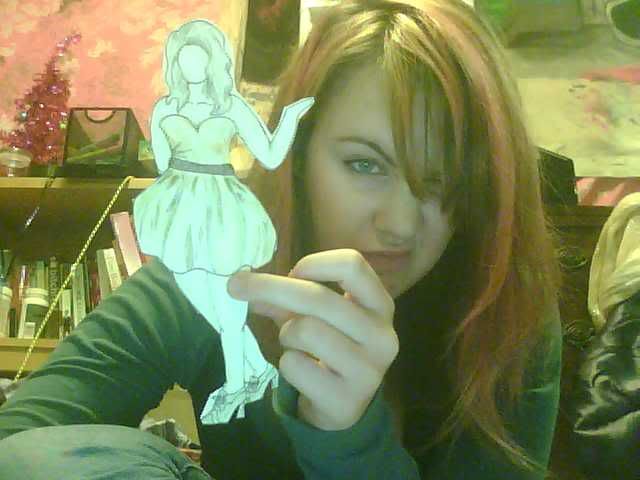 Dress inspired by the Turban Squash. Sweetheart neckline and bubble skirt with oxford shoes.
My most recent designs are definitely the best but they are still being graded so I haven't gotten a chance to take pictures of them. But here is a slight overview at least!