Have you ever browsed omglia.com and thought wistfully, "I wish I could buy a bucketful of this amazing, colorful, funky jewelry, but I'm totally broke and don't have any extra money :(" Admit it - probably (and you probably thought it just like that, too, with the frowny face and everything.)
WELL, frowny-face no more! This is your lucky day! I'm raffling off $45 of merchandise for only $5 a ticket! And to make things even AWESOMER,
the first 5 tickets will only cost $3 each!!
Look at all this swag - for the superlow price of one ticket (or 2, or 3 - however many you can afford!) you could open up your mail to this awesome package worth $45. Now that's what I call recession-proof spending! (OK, I'll quit being nerdy.) Included in this sweet swag bag are:
Hello Kitty Cell Phone Charm - valued at $5
Flower Button Earrings - valued at $7
Purple Lilac Button Studs - valued at $3
Pink Striped Little Earrings - valued at $4
Blue Star Keychain - valued at $6
Blue and White Polka Dot HairClip - valued at $3
Green and Blue Polka Dot Hairclip - valued at $3
Rainbow Balloon Earrings - valued at $7
Blue and Green Star Earrings - valued at $7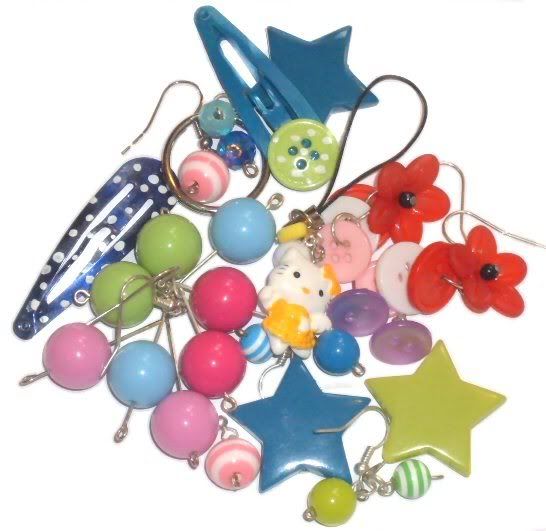 Raffle ENDS on March 1, 2009 and the first 5 tickets are only $3 each!
Buy your ticket(s) NOW
and tell all of your friends!