The past couple of years has seen the evolution of some rapidly spreading and just as rapidly disintegrating trends: the plaid craze, where college women everywhere donned lumberjack shirts over their leggings and promptly forgot about them 6 months later (including me - anyone want them???); two-toned empire waist block dresses (with plaid!) that looked like a t-shirt tucked into a skirt only lazier; Ugg Boots (let's pretend these are out. Maybe if we all wish hard enough, we won't have to look at them this winter). But there are some really cute trends going on this summer that I'm digging. In no specific order:

Maxi Dresses! Especially maxi dresses in bright, funky, graphic, bold prints. Oh, how I love these. Let me count the ways. First of all, ANY body shape can wear a maxi dress. It's long, flowy, and makes you look like a tall glass of water. They're universally flattering! Secondly, they ARE your outfit. Put one on, and that's it. Doesn't matter what shoes you wear, nobody will see them. Doesn't matter what purse you carry - no one will notice because your dress will be too fabulous. You can wear these to the beach or someplace carefree and casual, or to an awards show as an evening gown. The one thing I try to avoid with maxi dresses is that obvious bathing-suit coverup look. I like Maxi dresses with either full straps or sleeves - when they're tied with a string, they look tacky. I've found my favorite maxi dresses this season at TJ Maxx and Marshall's! But one of my pricier favorites is this beauty.



Lace - yes, even the see through lace tops! I have to admit, when I found a lace cami at Marshall's for $5, I had to debate whether to buy nude or black, and I kind of wanted both (I ended up with nude, but we'll see.) Lace is EVERYWHERE right now - peeking out from underneath tiered ruffles, replacing shirt yokes or entire backs, even on shoes! It's such a simple way to add a romantic and feminine vibe to any outfit. Love it! Shop here, here, and here.



Rolled, cuffed jeans - especially boyfriend jeans. The best part? You don't have to buy anything new! You can cuff your skinnies or even boot-cut jeans, or heck, why not steal your boyfriends? Anything goes! Dress them up with a pair of heels or cute, girly flats.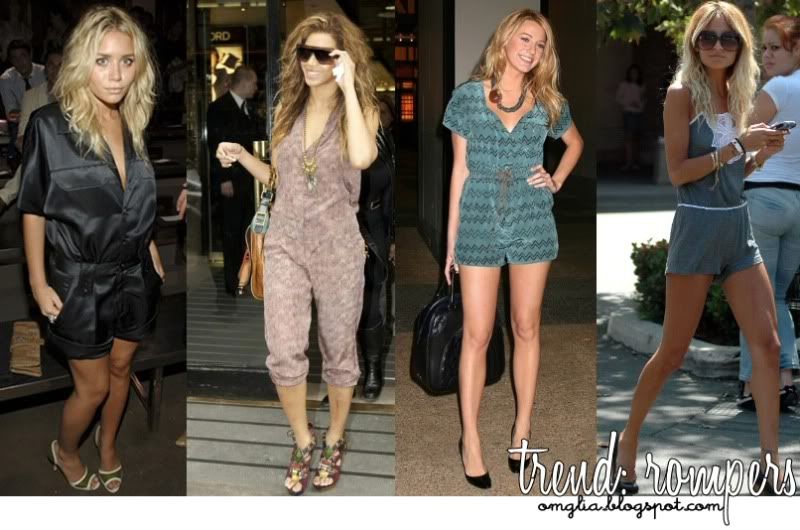 Rompers! Rompers are fun and playful, and oh so easy. Like your favorite summery white dress, you can just slip on a romper, add some accessories and go, no effort necessary. For summer I love sleeveless or cap-sleeved short rompers, and I'm partial to flowy, airy rompers - but they really have lots of styles! Shop here (search for Romper) or here .

What trends are you loving/hating this season? Or have you not decided? I am currently undecided on socks with strappy heels ... I hated it at first but it's growing on me. It's quite unexpected.