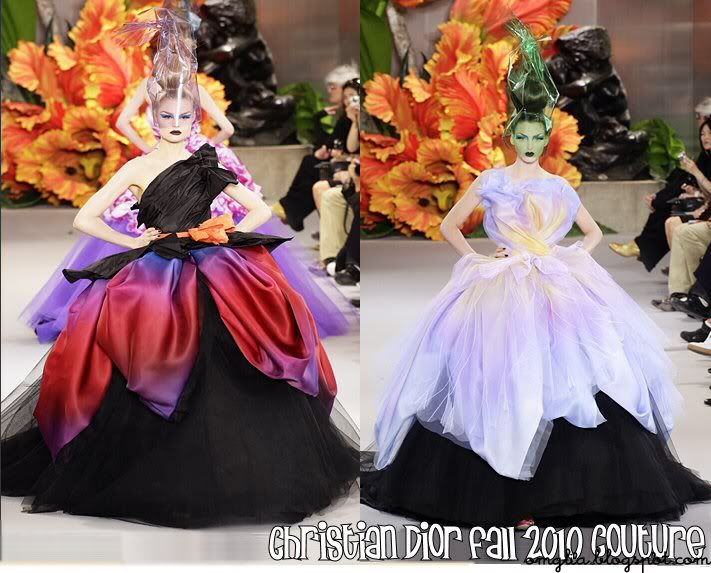 John Galliano has done it again, this man is simply a genius. Amazing. The line has a clear, thoughtfully conveyed inspiration, and although "flowers" or "floral" sounds cliche and overdone, not to mention a little Laura Ashley-ish boring, Galliano demonstrated an edge and a refreshing interpretation to a usually predictable theme. Even the shoes reflect the the concept: shoots and stems bloom from toes, thin vines climb up legs. The shape of the garments ties in both the present day and also clearly reflects Dior's claim to fame, the New Look: A-line, sculptured, tiny-waisted hourglass silhouette, cinched in smartly. Galliano plays with texture like crazy, including
hairy ostrich feathers
,
bunched
and
stacked
tulle,
fringe
, and what looks like it might be
fleece
, plus cellophane hairnets. The colors are phenomenal, colorful and bright, juicy and rich. The stage setup is delicious as well -reminds me of a 2007 Roberto Cavalli floral print brought to life: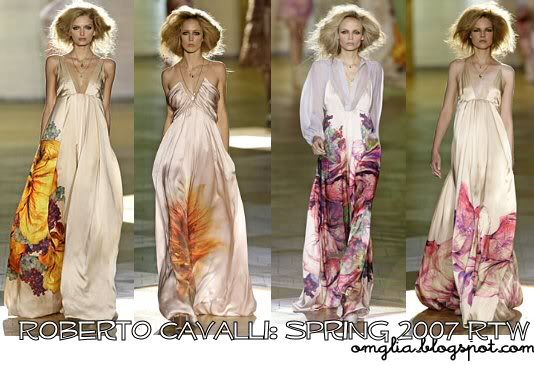 View the entire collection
here
. Omfg I love couture.